On the occasion of World Table Tennis Day, we had the chance to meet with Dan Zell, the founder of Toucan, a berlin based eco-friendly tennis table brand.
"We don't just want to make table tennis bats, balls and apparel which look beautiful."
Toucan wants to make equipment which respects and celebrates our environment and our planet.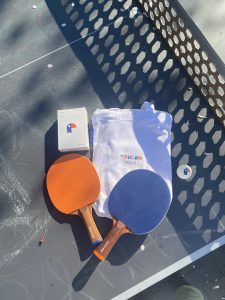 They use FSC-certified wood & paper
They

use GOTS-certified cotton
They

champion female empowerment
They

use recycled & reusable plastics
They

work with SEDEX, Fairtrade and BSCI factories
Toucan is now offering our Active Giving community with a 10% discount on their order with code ACTIVEGIVING
Discover their great products here
World Table Tennis Day celebration aims to promote table tennis as a sport for all, regardless of age, gender, or ability. The celebration also encourages the use of table tennis to promote social development, inclusion, and environmental sustainability. This is an event where EVERYONE can show their love and appreciation for the planet and people's prosperity.
The interactive events including expert talks, panel discussions, home workouts, and celebration events around the globe will guarantee an exciting day full of fun and inspiration towards a sustainable future.
This year sustainability will be at the heart of the occasion.
Think Sustainably, Act Now
Join the various online events here and participate in making the World better, stronger, and more sustainable through table tennis.