On March 31st midnight (CET) the Mobility Month 2023 has officially come to an end. We are beyond stoked to share that YOU – yes, YOU – helped us track nearly 230,000 sustainable kilometres across Europe. This was accomplished through the POW national chapters, partners, ambassadors and outdoor community as they set off on a 31-day mobility challenge, rethinking what it means to travel sustainably. To this we wish to extend a huge thank you to everyone who participated, including the brands and supporting partners, as we could not have re:routed, re:imaged and re:discovered without you.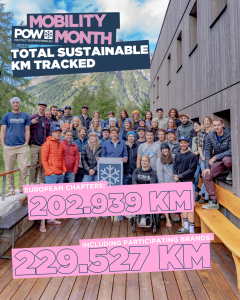 After tallying up the last few activities, the total number of kilometres tracked during the month of March came in at 229,527. This was supported by 16 Active Giving teams, over 500 individual people, and nearly 3,500 completed activities (including work commutes and travel itineraries).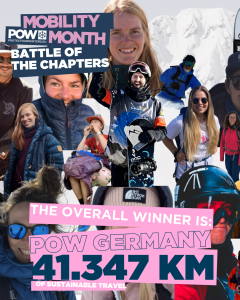 The race was a close one, but in the last few days POW Germany reared ahead and took first place with 41,347 kilometres out of the nearly 203,000 kilometres tracked by all POW EU Chapters. Second place was POW Austria with 39,405km and third place was POW Sweden with 37,461km. Fun fact: Did you know that this 41-thousand is equivalent to one lap around the earth?!
Of all our participating partners, it was Picture Organic Clothing that landed in first place with 9,164 kilometres out of the 26.593 kilometre brand-tracked total. If you needed a mental picture, this is nearly equivalent to the distance between Greece and the Bahamas! Atomic came in second with 7,032km and Deuter in third with 5,282km.