We're happy to introduce you to our #activator Nuno Dias, who just launched his team Martial arts for the planet on the Active Giving app with the goal of inspiring the world of sport to contribute to the reforestation of our planet with our partner Eden Reforestation Projects.
Born in Portugal, sport has been part of Nuno's life for as long as he can remember. From racing and street football with friends to becoming a federated football player at age 11. He played football for 7 years. At the same time, he also started doing Karate, a modality in which he became national champion at the age of 18. Later he got into Judo and Jiu-Jitsu.
Through his journey as a high performance athlete in Karate, he represented Portugal in several international competitions. He was the first Portuguese athlete to achieve a medal in the combat competition in European Championships at the elite level. He is a 12x shukokai Karate World Champion (last title was in 2018, and due to Covid-19 there has not yet been a new world championship) and a finalist in some of the main events of the World Karate Federation (WKF) world circuit. He was the national absolute champion of Ju-Jitsu and European champion of Brazilian Jiu-Jitsu (2019). When he is not competing, Nuno is also a combat sports coach in Karate, Judo and Jiu-Jitsu.
It is no surprise that Nuno love sports in general, but combat sports are really a main part of his life. He currently trains Brazilian Jiu-Jitsu 3 times a week, practices Judo 1 to 2 times a week and trains Karate 3 times a week. At the same time, he runs and trains with weights. Usually he trains almost every day of the week.
"I am passionate about sports in general, but combat sports in particular."
We asked Nuno what his top tips for staying active and motivated are, he told us that the most important thing for him is to do some activity that you enjoy and from which you derive pleasure. "This way it's easier to stay active when the desire to train wanes" he explained. With his experience, he knows that this is something that happens to everyone, so that is why he believes it's important to be disciplined and always go out to exercise, especially when we don't feel like it.
"Set a goal and work towards that goal. Imagine something you really want to achieve"
In parallel with sports activity, Nuno is a Project Manager at Sport Evolution Alliance, a non-governmental organization which intends to contribute to the development of the community through the connection, promotion and application of initiatives associated with sport. His areas of expertise are towards dual career, sustainability and health and population.
This year he has been involved in several European projects within the scope of Erasmus +, as Project Manager. For example in the project
United Through Urban Movement
 or the project
GETS
(Green Education Through Sports). When asking Nuno about challenge he overcame to lead these project to success, he simply replied, "
The biggest challenge is time management so that nothing fails and nothing is left behind. However, the discipline of having been a high-performance athlete helps a lot.
" One of the best thing Nuno takes away from this year (which is not over yet) is the possibility of being able to follow the UN Ocean Conference 2022 that took place in Lisbon, Portugal and addressed "Scaling up ocean action based on science and innovation for the implementation of Goal 14: stocktaking , partnerships and solutions".
Nuno is a professional journalist and has written several articles on important topics for today's society. You can find some of the articles he wrote about sport and sustainability for Legacy magazine
here
.
Nuno is part of EcoAthletes champions, where he is an ambassador for awareness of climate change and environmental problems. He has a degree in Communication Sciences, a postgraduate degree in Education, Sports and Physical Literacy and he is currently completing a master's degree in this field.
"I fight daily to make the world a healthier and better place. Finding people or organizations with the same mission is extremely rewarding."
Nuno heard about Active Giving for the first time via Social Media. As he fights fight daily to make the world a healthier and better place, finding people or organizations with the same mission is to him extremely rewarding. "That's why I really respect the project – We need more projects like this." Nuno said.
For Nuno, contributing to a more sustainable planet is a must. Being able to help plant more trees and make the world greener is gratifying. This is what made Nuno want to create his own team on Active Giving.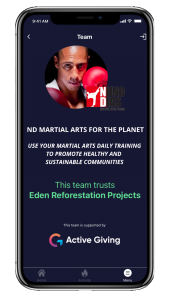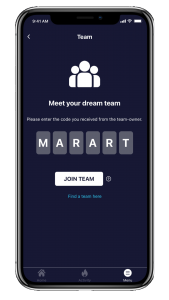 His team Martial Arts for the Planet is now live on the Active Giving app with code « MARART ».
Nuno started his environmental conscious journey when he worked as a lifeguard. As he loves being outdoors and enjoying nature "It was during this period that I realized the importance of preserving nature. I had no idea about the garbage people leave on beaches. This was the turning point for me. It's been 20 years now."
We asked Nuno to give us his tips to incorporate sustainability into our daily lives: 
Rethink (do we really need this?)
Reduce (consumption, packaging, waste)
Reuse (the object for another purpose)
Recycle (separate waste and forward for recycling)
"Contributing to a more sustainable planet is a must. Being able to help plant more trees and make the world greener is gratifying."