Earth Day is just around the corner and we are thrilled to announce that the USA Women's 7s Players have launched a national, interactive tree-planting initiative with Active Giving in support of our partner Eden Reforestation Projects.
"Going for Green" is the name of their initiative and is created to encourage healthy activity among their fan base and make a tangible contribution towards solving the climate crisis.
We had the chance to speak with the team-leader, Alena Olsen.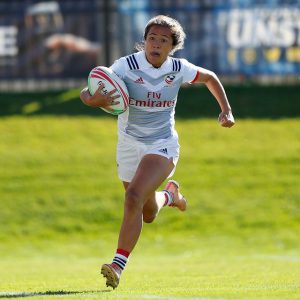 Why did you decide to create a TEAM on Active Giving?
AO : We talk about what kind of team we want to be and what is important to us. Our job is to represent our country. We want to make our community proud and serve them the best we can, so there's a lot of interest in charitable initiatives and using our platform to inspire and make a positive impact. We are a passionate team that would like to use our platform in ways that support our values. I love the TEAM part of the app because I want our community to feel like they are part of our team. We work together and win together.  We have the power and ability to make changes and it's specifically important that we do it as a team because that's the only way we'll be able to solve any large tasks in front of us.
How important is sustainability for the sport of Rugby?
AO: The consequences of climate change are dire enough to spark sustainable action for any person, rugby player or not. But it's important for rugby as a sport because the players know how excruciating the heat is in some of our World Series tournaments, and an increasing climate only poses greater risks to our health. Additionally rising sea levels jeopardize the future of many Pacific Islands which hold a significant cultural and competitive aspect of the sport. Rugby is not immune to changes in the outside world as we've seen in this past years pandemic.
What is your vision for the USA Rugby Women's 7s and their impact on the planet?
AO : World Rugby has signed the UN sports for climate action page, I want our team to support them in that initiative and lead the way for other World Rugby teams to take climate action. There are so many ways for us to reduce our impacts and we'll always be striving to be better, but as for this initiative I hope it becomes a legacy. Something we can grow (no pun intended) each year and allow us to connect with our community.
What are your tips for simple ways for people to incorporate sustainability through their sport activities?
AO : Join our team on the app and make your activity doubly good! Always use a reusable water bottle! Buy gear second hand if possible and allow it to be reused or repurposed when you no longer have use for it. Use alternative transportation to practices, meetups or events, or carpool if needed. Talk about sustainability with your teammates, staff and families! We need everyone on board!
To join the and her team Going for Green enter the code: RUGGFG. Their goal is to plant 5 000 trees! Their team is supported by Ecore Athletic, a company who provides surfaces that are defined by performance for sports, fitness, and student recreation.