Today at 5.30 am (MST) James Lawrence, aka Iron Cowboy, will embark in an unprecedented challenge of completing 100 iron-distance triathlons in 100 straight days. The Conquer 100 attempt aims to create a new world standard of human performance and endurance, both physically and mentally. Doing what is believed impossible.
100 TRIATHLONS | 100 CONSECUTIVE DAYS
James' Conquer 100 project will take place from March 1, 2021 – June 8, 2021. 140.6 miles a day (225 kilometers), for 14 weeks, totally 14, 060 miles (22 500 kilometers).
As well as pushing the limits of human performance, the Conquer 100 attempt aims to promote the work of O.U.R., a not-for-profit organization focused on permanent eradication of child sex trafficking through coordinated rescue and recovery planning.
We're are happy to support James in this incredible attempt with the IRON COWBOY team on Active Giving with the goal of planting 10 000 trees!
To join his team, enter code => COWBOY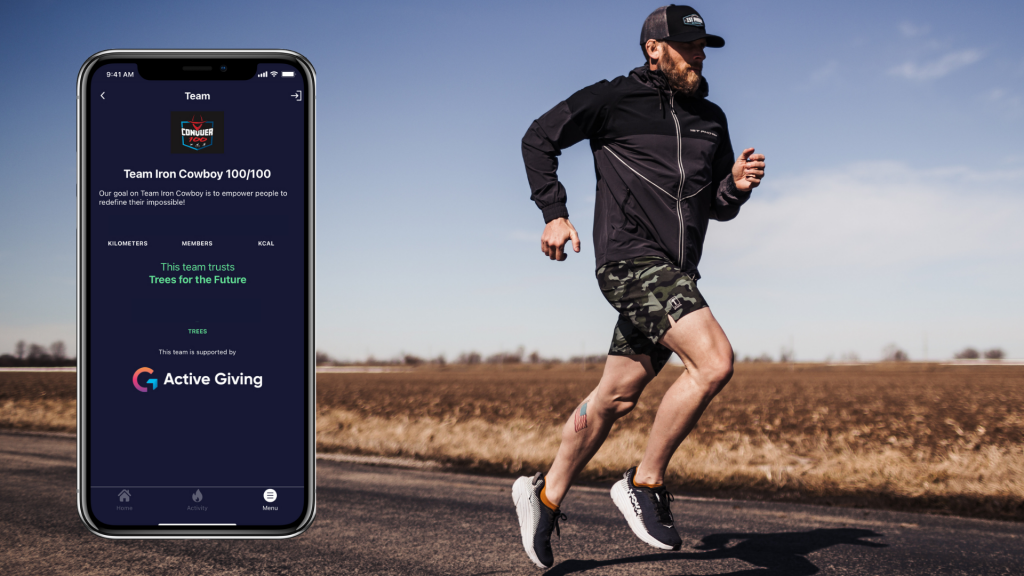 James lives with his wife, Sunny, and their five children in Utah. After breaking several Guinness World Records, James wondered if he had truly found his mental and physical limits. He knew there was more: 50 Ironmans, 50 States, 50 consecutive days.
After accomplishing the fifty, James knew he wasn't done yet. Over the next five years, he rode his mountain bike to the top of Mount Kilimanjaro, ran 235 miles across Greece, competed in Xtreme Triathlons around the world, and raced the Xtri World Championship in Norway. He also competed in the T.V. World Premiere of The World's Toughest Race – a ten-day adventure race through the back jungles of Fiji, and The Uberman.
Follow James' CONQUER 100 here