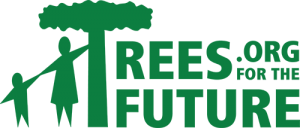 About Trees for the Future
Trees for the Future identifies a group of farmers—typically 300 families at a time —who have both a great need for assistance and a high likelihood of success. Farmers provide the land, labor, and water; a powerful, entrepreneurial determination; and an inspiring sense of ownership. TREES provides training, mentoring, seeds, and nursery supplies for each family. They guide the large groups of farmers through the process of using trees to protect, diversify, and eventually optimize their crop land. They continue working with farmers for the four years it takes to fully establish the Forest Garden, offering ongoing coaching and regular site visits.
Read more about Trees for the Future on their website and see their latest impact report here.