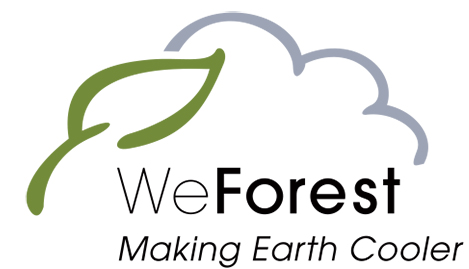 Active Giving & WeForest
Active Giving supports the WeForest Brazil Forest Project as well as the Mara Project in Tanzania.
Active Giving Impact
12.125 trees
Introduction
WeForest is an international non-profit that develops high quality forest restoration and conservation projects for companies committed to stopping global warming. In addition to drawing CO2 out of the atmosphere, trees balance the Earth's water cycle which is essential for cooling our climate. Moreover, growing trees through WeForest helps provide income to local people, improves the health of the soil and benefits biodiversity.
Their vision is a world where communities and nations sustainably manage their forests and natural resources for the benefit of our climate, our environment and humanity. While their mission is to build upon corporate and scientific partnerships, WeForest empowers communities to sustainably advance and implement innovative, high standard, scalable and lasting solutions to restore forest landscapes. WeForest has the goal to successfully transform 250,000 ha of existing forest landscape by 2021, as well as restoring 25,000 ha of former forest land while demonstrating Forest and Landscape Restoration best practices in different ecosystems. WeForest is committed to developing applied research projects that will help understand and improve practices. Currently, the organization is active in Tanzania, Ethiopia, Brazil, Malawi, Zambia, and India. Active Giving specifically supports the Brazil Atlantic forest project.
Problem
The main problems that are tackled through WeForest are the rising temperatures on this planet and the problem of deforestation, which is also a root cause for increasing temperatures.
Solution
WeForest is growing a movement of small and large responsible companies committed to having a positive impact for people and for our planet. The organisation works with communities, local organizations and NGOs to develop scalable reforestation projects, demonstrating how it is possible to mobilize communities and restore degraded soils. It's not about planting trees, it's about the overall result for the environment and for the people who live there. Regaining ecological integrity to enhance human well-being is key to ensure the forest will be protected for the long term. WeForest has a scientific approach to Forest Landscape Restoration and collaborates with universities and research institutes to strengthen their reforestation strategy through applied research. They develop a portfolio of scalable, quality forest landscape restoration projects.
The non-profit identifies and intervenes in areas where there is a growing threat of further degradation. Their geographical focus is the tropics where forests and trees are more efficient at cooling temperatures. Furthermore, the empowerment of women is central to most of their projects whether through women-led micro-enterprises such as nurseries or other economic opportunities. Improved ecosystem services are an essential outcome of all projects, such as a more sustainable supply of clean water, reduced erosion, lower landslide risk and flood/drought mitigation. WeForest diversifies income streams to make community livelihoods more resilient by increasing the supply of forest-related products (medicines, foods, other resources), monetary income from alternative sources (direct employment in restoration activities, ecotourism), fostering and facilitating entrepreneurship.
Impact
WeForest was able to grow more than 27 million trees and combined with restoration efforts over an area of 22.478 ha has impacted an area 183.000 ha, twice the size of Berlin, Germany. To measure their impact the organisation carries out ecological surveys to assess tree species composition and tree growth and install cameras to monitor the continued health of forests. They measure the project progress and impact on Climate, People and Planet.
History
The idea of WeForest came to Bill Liao in 2008 out of a thorough search for scientific evidence: Bill wanted to find a simple solution to the urgent issue of global warming. Marie-Noëlle Keijzer met Bill in 2009 and they decided to transform this idea into an NGO. WeForest has over time developed a unique capacity to mobilize companies to engage their employees and millions of consumers in restoring the world's forests.